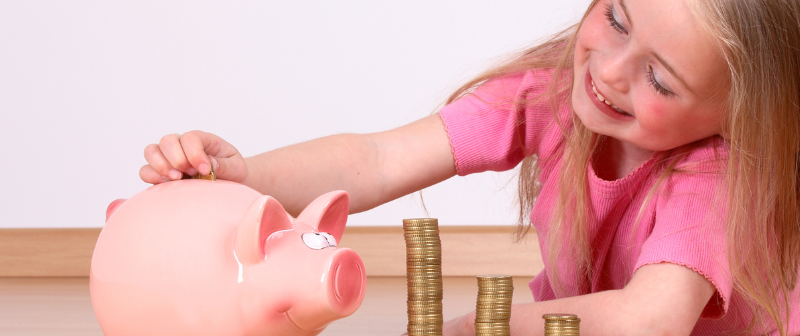 Why Do You Need a Kids' Saving Account?
A kids' savings account can help your children achieve future financial goals, like going to college, purchasing a car, or paying for a wedding or trip. According to Forbes, the four-year cost of sending a kid to an in-state public university was $18,550 in 2020.
If your child dreams of getting away from mom and dad to an out-of-state college, the expenses only go up. To pay for college, you may want to start saving and investing now instead of relying on financial aid or scholarships to cover the high costs. With a bit of knowledge, you can make smart choices to maximize your savings for your child's education. Here's everything you need to know to get started with a kids' savings account.
Why Do You Need a Kids' Saving Account?
You need a kids' savings account to help your child achieve their goals and reach their potential as they become adults. In many cases, you can find a savings account that allows you to make automatic deposits, so you can save without thinking about it.
When you have a young child, starting a savings account now can make a real difference to their future. Of course, before you start money aside each week or monthly, you need to know that there are real benefits for you and your family. Set your child up for success early in life by exposing them to, and teaching them, important financial wellness tactics.
Tax Benefits of a Kids' Savings Account
In some cases, the funds you place in a kids' savings account aren't taxed when you deposit them. For example, if you make $50,000 a year and you deposit $1,000 each year, your taxable income before other deductions will drop to $49,000. 
Other accounts help you defer taxes when you deposit the funds and don't charge you federal taxes when you use the money for your child's education later on. This means it's money that you never pay taxes on.
Financial Education at a Young Age
You want your children to learn the value of money and how to make intelligent choices. While you might believe that your children do what you say, they do what they see you doing.
Saving now for your child's future is a great way to start their financial education. Depending on your child's age, you can encourage them to help you select the correct type of savings account and even contribute a little to it. 
Streamline Your Savings for Future Education Needs
You know that your child needs a college education to succeed in the modern world, but it's so expensive. By opening a savings account now, you can streamline your savings for your kid's future educational needs. There are many savings accounts out there that cater to parents looking to maximize their savings efforts for their children.
How To Sign Up
Your child is invited to open a Berenstain Bears Cub Account at PrimeTrust.  We are teaming up with the popular children's characters to help teach children the money management concepts of Save, Share, Spend and Earn.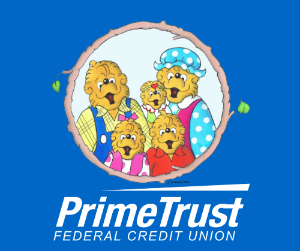 When your child opens an account, he or she will receive a free goodie bag with a Berenstain Bears book and other surprises. Start saving with the Berenstain Bears today! (The child must be present in order to receive the goodie bag.)
Look for "beary fun" events like book readings and special appearances by Brother and Sister Bear. PrimeTrust believes that teaching concepts of smart money management and saving at an early age will help children to grow into financially responsible adults. Join us in helping the child in your life learn to make smart financial decisions.
Cub Accounts are for children ages 13 years and younger.
Children must have an original social security card and original birth certificate to open an account. A qualified member (see "Become a Member" for more details) must be on the account with the child. To open a Cub Account, simply use the EzApp(Opens in a new Window). It's fast, easy-to-use, and available anytime, from any connected device.  You can also stop by our Bethel or Madison branch to open an account.
Interested in becoming a member?
Contact the PrimeTrust team to learn more.

Your Story Matters Here