Business Visa®
As a business owner, you never underestimate the importance of cash flow.
We have options for you.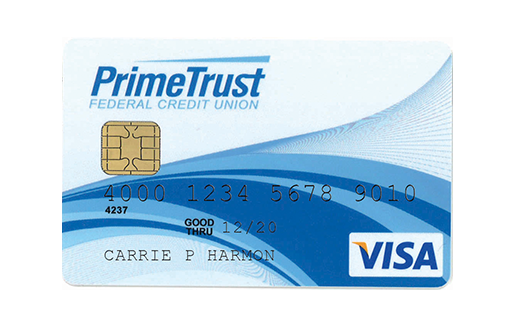 Business Visa® Debit Card
In today's fast-paced marketplace, having the ability to pay bills or make purchases without tying up credit has become an increasingly important for most businesses.
That's why PrimeTrust Federal Credit Union offers a Business Visa® Debit Card that allows you to enjoy the versatility and widespread acceptance of Visa® while using the money in your Business Checking account to make purchases.
A Business Visa® Debit Card offers tighter control over your finances and improved money management.  Business debit transactions are automatically deducted from your Business Checking account and typically posted within 24 hours of the purchase, providing an up-to-date transaction history that can be accessed in minutes online or by phone.  So it's easy to see where your payments are headed and which accounts have been paid.
PrimeTrust Business Visa® Debit Card Benefits
Make fast, hassle-free purchases from your business checking account
All purchases are detailed on your monthly checking account statement or can be accessed within 24 hours online or by phone.

Make purchases anywhere Business Visa® Debit Cards are accepted – even online or over the phone

Visa's® Zero Liability Policy protects you from unauthorized charges

Continuous fraud monitoring to protect against suspicious account activity

Identity Theft Assistance that helps you recover your identity and prevent further problems

Get additional peace-of-mind from Visa's® extra security protections whether you use your Business Visa® Debit Card for online, phone, or mail order purchases
For the purchases you make for business, we have the right tool.
The PrimeTrust Federal Credit Union Business Visa Card is a smart move for your business. Enjoy the worldwide acceptance of Visa, cards for multiple users, and the
low fixed rate
of our Gold Card program.
The Business Visa is your hassle-free way to access credit for all kinds of business purposes. Apply for yours today!
PrimeTrust Business Visa Benefits
Enjoy purchasing convenience at the millions of locations Business Visa Credit Cards are accepted – in store, online, or by phone

Easily separate personal and business expenses

Save on business products and services at select merchants

Receive cardholder perks: auto rental collision damage waiver, lost/stolen coverage, emergency cash disbursement, zero liability for fraud, and business travel and emergency assistance services

Improve your cash flow by using credit responsibly

No annual fee
Ready to Apply for a PrimeTrust Business Visa Card?

Complete and return the application linked below or contact the PrimeTrust Commercial staff today.
or Contact the PrimeTrust Commercial Services team to learn more.